May 28, 2020
Posted by:

infoadmin

Category:

Blog
Work From Home The New Normal And The Future Constant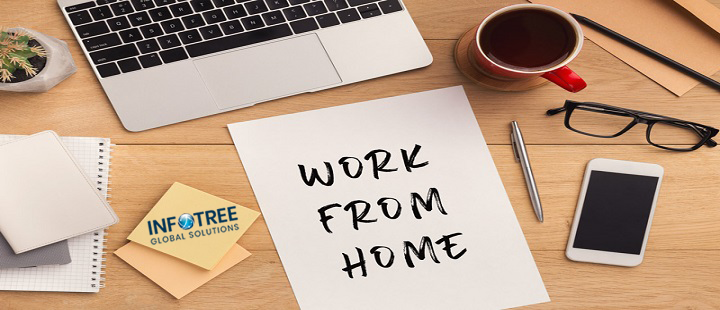 As technology evolves, the digital world is busier. Work from home may come as a novelty for some but this kind of flexible working plan is becoming more and more popular. By committing to digital transformation, organizations may actually find their employees more engaged and less stressed, benefiting both employees as well as employers.
Employees have started realizing more peace of mind because there is no rush for things like catching a cab, traveling in public transport, or being stuck in traffic during their to-and-from commutes. They can create a better balance between work and life, as they can simply "plug-in" from anywhere. This remote option also enables companies in high-cost places to hire talented professionals who may prefer to live in small towns with a lower cost of living ibetnetwork canada.
When working from home, the environment can be ever-changing. One day you may be tied to your home office, but the other may be sitting outside with your laptop. There is also the valuable option of video meetings with colleagues and clients to stay connected to your work family. With this flexible schedule, people can still feel very much connected with the team while spending time at home with their families. Some may even go one step further by maintaining a social calendar to stimulate office events like competition for the best work from home station, introduce your pets, virtual game nights, etc. This, in turn, builds team morale which can lead to better overall performance and cohesion. While the surface may show several benefits for the employee, we must not forget the employers. This work from home arrangement truly is mutualistic.
Employers may find work from home to bring a reduction in their office costs. Whether it be office space or general operating costs, they could see a change while still seeing gains in productivity from their team. They are also enabling a sense of trust and independence with their team. Giving them the opportunity and flexibility to handle their designated tasks and deadlines through their schedules—whether that be waking up extra early in the morning or working late in the night. This self-determination can be very motivating, and overall leave employees feeling much happier at and about their place of work. Committing to a work from the home arrangement will also attract more talent, including the newer generation of the workforce. Having grown up with technology, they not only have an advantage of knowing how the latest software, but also the systems that are best suited to support remote work situations. These young professionals would bring dynamic ways to corporations to allow continuous growth and advancement in today's ever-changing, competitive world.
Despite product, strategy, business objectives, the employees drive business achievement. Who, other than the representatives, will shape the results of products yet to come, drive the proficiency of the teams, and transparent the development and wellbeing of the company's strategy? Thus, the capacity to draw in and hold top talent is a key differentiator in the present business world. Remote work can play a constructive job in this field, offering a feeling of personal acknowledgment among the business and its employees. Organizations that offer a remote working plan, for example, full, half, or limited remote work, could affect an applicant choosing their next profession move.
Innovation will become more advanced making everyone virtually close all the time and the sizes of the companies will be increasing. It will keep us connected as workers and organizations across time zones and countries. Visit arriveinstyleaz.com/. We as a whole may not be in the same room, yet work can be similarly as compelling, if not more along these lines, than the conventional working model. It's the ideal opportunity for businesses and representatives the same to grasp the new universe of work and to think about the advantages of positions that have remote capabilities.
When pondering working remotely, contemplate that a few jobs are more fit to the remote world than others. For example, it's really hard to be a remote doctor or construction laborer! Employments which are more innovation-based, or require chiefly a PC and internet, are the place you'll discover more achievement when searching for a remote job. Employments like Software Development, Marketing, Customer Service, Online Sales, UX Designer, 619 Roofing Company, Data Analyst, HR, QA Testing, Cyber Security Analyst, DevOps Engineer so there is quite often something reasonable for the individuals who cannot commit to the workplace life! For example, marketing is another specific zone that is getting always remote. Remote advertising jobs can be found in various organizations, as the field has modernized itself and become more innovation-based. A few zones of advertising do profit by physical office space, for example, events and network-based showcasing. Anyway, with internet-based life and other advanced viewpoints, remote promoting occupations are getting a lot simpler to discover.
Work from home is a win-win situation for both employees and employers. In this rising digital era; work from home gives individuals a sense of independence and accomplishment while providing a better balance between their personal and professional lives and at the same time allows employers to save money, retain the workforce and attract top talent for their organizations.