Employer of Record Solutions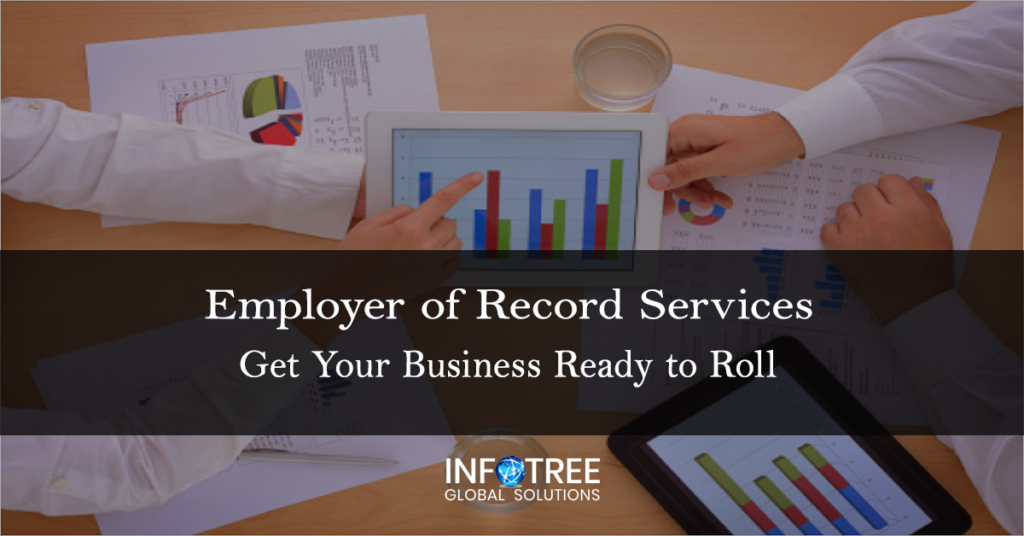 Infotree Global Solutions offer global payroll and employer of record services for helping clients expand their businesses around the globe. The services aim to serve the objective-let you focus on business operations without concerning about the hassles associated with finding and hiring the talents that will contribute to your business growth.
GLOBAL EMPLOYER OF RECORD
A global employer of record acts as outsourced assistance for organizations with global employees. In general, an employer of record helps clients hire an international employee on their global payroll. In this endeavor, the business needs not to carry out the complex and tedious task of establishing a branch office within their global employees' countries, rather using the resources and set up the payroll of their employer of record partner.
The expanding organization still acts as the operating authority and the one all international team reports to. The Global employer of record offered by us helps you with operations like payroll, salary benefits, and regulatory formalities with global staffing. They can also offer assistance to other similar HR operations that the original company finds it difficult to manage due to lack of resources, bandwidth, or expertise.
HOW IT WORKS?
Employer of records companies carry out the following operations for their clients:
Remuneration: Establishing and handling global teams' direct deposits, taxes, salary schedules, tax contributions, and other associated tasks, combined with accounting and bookkeeping assistance required with the same.
Benefits: Executing medical, vision, dental and location-oriented advantages. Infotree Global PEO employers of record also undertake benefits such as 401(k)s and 401(k) or similar, commute reimbursement, paid time off, flex spending accounts, paid sick leave, and so on.
HR and Legal: Handling compliant hiring and employee onboarding practices, plus apt employee classifications, registration, tax filings, and more as specified by local laws.
Varied Services: Employer of record services may also include a number of administering family or medical leave, workers' compensation, and short and long-term disability. Besides, it takes care of staff performance evaluations and termination negotiations if required
PEO VS EOR
Though an employer of record seems equivalent to a PEO, or professional employer organization, they are quite different. In the U.S. where they are considered as common, PEOS are actually co-employment arrangements where HR and payroll management is varied from routine employee engagement. The PEO manages HR and payroll whereas the co-employer is responsible for managing the employees. In co-employment, both are required to be registered as an entity in a particular country where the professionals are located. In such a case, both companies have to share the legal responsibility for the newly hired employees.
When denoting a similar kind of service for global staff, vendors often mention their services as 'global or international PEO'. Here, the vendors are not specifying the co-employment arrangement generally related to a PEO in the U.S., rather they are considering it as an outsource services such as an employer of record.
The major difference between a PEO and an employer of record is the entity requirement as well as a shared legal responsibility. Unlike with a PEO, the responsibility of entity establishment and legal challenges are solely managed by the employer of record.
INFOTREE GLOBAL'S EMPLOYER OF RECORD SERVICES
Infotree Global Solutions is proud to be the preferred employer of record partner for start-up businesses to Fortune 500 companies looking forward to international expansion.
Our employer of record service practices the following:
1) Selection: Infotree Global takes pride in having a network of established business entities in over 50+ countries worldwide. We provide the most solid and comprehensive PEO infrastructures in the modern job industry. You find and audit your company's ideal international professionals. Then we work on placing that new talent onto our payroll system, discussing benefits, segregating their official employee category, and then tying up any local hiring regulations.
2) Joining: Our business entities are all set to execute internationally compliant employee contracts as well as classifications. Once completed, we continue to onboarding your candidates within our entity system, which generally takes one to three weeks.
3) Integration: New global employees are formally introduced with our payroll and integrated into our proprietary employer of record solution. Payroll takes place on finalization and acknowledgment of a service deposit, that assuring upfront your hire's payment schedules and benefits are on-time and constant from their day of joining.
4) Administration: We manage ongoing oversight and maintenance into all types of front- and back-office HR, accounting tasks, and legal operations of your international staff. You and your international staff can access us anytime and find out details about payroll schedules, employee contracts and servicing information. Our software is user-friendly and transparent which means you can stay empowered and worry-free at the same time.
5) Support: Infotree Global remains today's most preferred PEO with a competitive and end-to-end employer of records services. Our endeavor to offer such a great partnership is due to maintaining the international labor law's as well as business law's top professionals, including consultants, attorneys, and contractors with country-centric career specialization.
DO YOU NEED AN EMPLOYER OF RECORD?
If you have global expansion in mind, you know how crucial it can be. A lack of local expertise can ruin the entire game. Here, an employer of record is the best possible solution any organization can have.
Here are a few situations where our employer of record solutions can help you achieve your global growth objectives. You definitely need an employer of record if you are planning to:
1) Explore New Markets:
An EOR enables you to measure the readiness of a global market by hiring employees for you in your target locations. You can test the new markets by initiating operations with new workers without having the time and money needed to set up an entity.
2) Safeguard against Contractor Noncompliance
If you consider international independent contractors as part of your expansion plan, it is possible that the operations they are carrying out are similar to what the local government recommends for employees. The contractors could put you at risk of tax violations. Here is when Employer of record companies can manage to hire your contractors on the behalf of your company, in compliance with all the local requisites to avoid non-compliance penalties.
3) An Established Entity
It may happen that your company has reorganized a new growth market and setting up an entity can be your next step. But you require to start operations quickly and set up an entity is a long and complex process. With an EOR, you can have employees up and work in the new country in a few weeks.
4) To Enable Acquisition
If your company has recently obtained a workforce in a new location but does not have a way to pay the new hires because the agreement didn't include the legal entity, an EOR can help. It can pay the employees on your behalf until you set up your entity.
WHAT ARE THE ADVANTAGES OF EMPLOYER OF RECORD SERVICES?
An EOR takes up the responsibility to solve all the complexities related to hiring for global offices. Clients get payroll, tax, data compliance, benefits administration, legal consultation, and other related HR operations from our industry experts with rich experience. As a result, you get a one-stop solution for the employer of record services.
Associating with Employer of record companies can bring a host of benefits for you. Here are the most prominent ones:
1. Time-Saving
Using a well-established employer of record is the smartest way to manage your workforce internationally.
Take a look at the traditional route — to find and hire an ideal candidate to fill an important role in a new market, your organization would then require to:
• Establish or purchase a branch office in that particular country
• Register your company as a subsidiary of US headquarters
• Contract a local accountant, payroll service lawyers, and local HR professionals
• File and get a tax ID
• File and seek a local bank account
• Explore labor laws and mutual bargaining rights
• Apply labor laws and bargaining rights into your agreements
• Acquire a final contract for new hires
• Onboarding new employees
• Establish a compliant salary schedule, benefits administration, and others- before their day of joining
The above process will require months to even one year. If you have candidates, those could accept other offers during that period. Simply understood, an employer of record services manage all using the already setup business entities with a network of local professionals.
2. Reduced Cost
Companies can save operational costs significantly without establishing a local subsidiary. Besides, the employer of record services comes with great flexibility and cost-effectiveness, especially for small businesses with a small team reaching out to new markets.
Companies do not require to support extra HR, finance or legal functions which reduces the cost and time. The employer of record platform comes with a draft ready for adoption and initiation, decreasing lead times and implementation besides supporting costs.
3. Compliance with Labor Laws
It's crucial for companies to run their own department dedicated to compliant international labor laws. Managing employees overseas takes expertise in the fields of human resources, finance, taxes, data compliance, and other global employment norms. This huge responsibility can have severe consequences if not managed properly.
Employer of record platform offers a safer and compliant solution to international hiring. You can reduce the burden of global employment norms and concerns including penalties, business sanctions, lost licenses, and others. Infotree Global's PEOs and their employer of record services provide you the experts you require across global labor laws.
4. Risk Prevention
The best part is the majority of compliance risks fall on your EOR, not your company. They have the employees' names on their payroll, and they implement and administer payroll and employee benefits. Any risks related to these functions will be directed toward the PEO. No matter if it is misclassified employees or paid holiday or family leave policy or tax audits, you need not worry.
Fortunately, at Infotree Global, our team is well aware of the specifications of international onboarding and employee management that assist us to avoid risk. With a reliable employer of record like us, you can be assured of culturally informed hiring, onboarding, contract drafting, retention, and labor law-compliant practices.
5. Convenience
Employer of record services is the way companies can have one less worry associated with the business. The full-service partnership indicates that using a global PEO can allow them to focus on core business operations and provide exemplary outcomes.
Consider what objectives can be achieved when you can have a reliable partner assisting you with the administrative complexities of managing an international workforce. Any company with global employees knows how crucial it can be. When the global expansion is your vision, then join hands with an employer of record service provider.
OTHER EMPLOYER OF RECORD BENEFITS
In addition to the benefits already discussed above, partnering with an employer of record often indicates that the organization has its own entities in various locations. It means that an organization is not required to set up its own business entity in a country which is a new market for it.
International employees can always benefit from an employer of record because of the assurance of remuneration and tax management in compliance with the local labor laws.
WHY INFOTREE GLOBAL PAYROLL AND EMPLOYER OF RECORD SERVICES?
Infotree Global Solutions' global payroll and employer of record is handy if you wish to have your employee onboard to fulfill your business needs while you still figure out the possibility of establishing a subsidiary in the future. It takes up all the burdensome tasks on behalf of your company like finding and hiring the employee and agree employment terms for their job contract like their role, salary, and duration. The employer of record also helps you with drafting an employment contract that is in compliance with local regulations and supports your terms and conditions. You can have your employee registered for the payroll in the host country while ensuring country regulations including tax, employment, and payroll. It takes care of monthly payroll administration, prepares payslips, and send it to your employee.
Since its inception, Infotree Global has been focusing on providing reliable services to its clients. Small and Fortune 500 companies have been our clients for their hiring needs. With our network of offices, we have managed to provide you employer of record solutions quickly and compliantly. With our extensive local expertise, we understand how to get international employment right.
Get in touch with Infotree Global Solutions to find out more about partnering with global payroll and employer of record service. We are there to reply to your queries and outline activities to help you make an informed decision for expanding your business in international markets-one unaffected by boundaries. Find out how we can assist you with employer of record services by contacting us today.