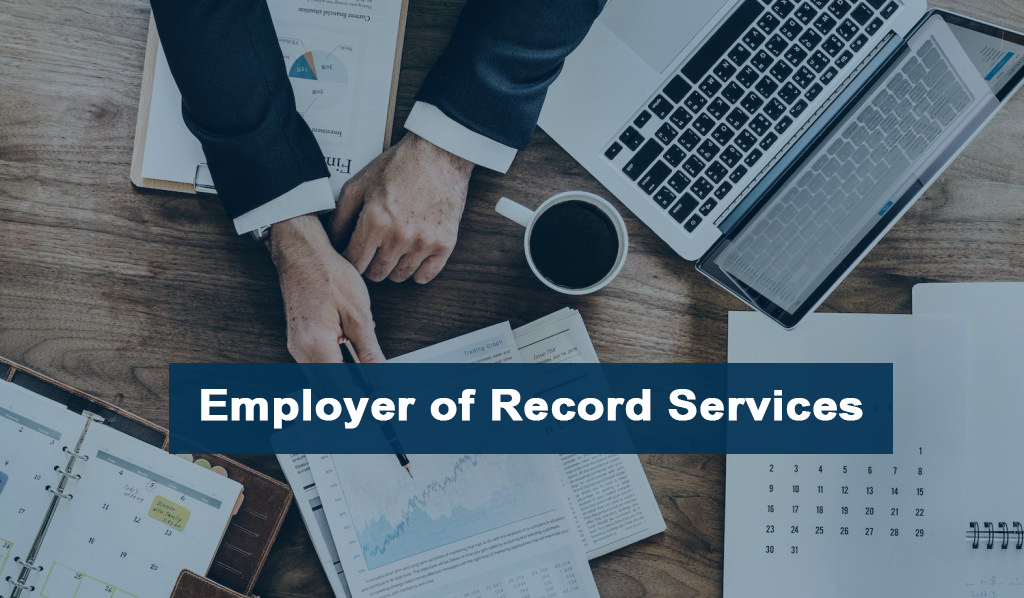 Employer of Record Services
What is an Employer of Record?
Many companies think of getting their company an international exposure to reach out to a wide pool of talent and to increase their customer reach. But introducing an entity in a foreign country is rather expensive and uncertain. Employer of record services eliminates that dilemma by adding workers to the global market. An Employer of Record is a party or a company that is legally entitled to paying employees, incorporating managing worker taxes, benefits, insurance, visa applications, and sponsorship applications and a large number of different transactions and HR services.
Companies usually employ EORs to get rid of all the issues with HR, market access, market research, and market expansion and to take care of finance for global employees. When one hires EOR they officially become the business of your workers. This important and corrected version of the old system keeps a business compliant with work law and different fields of related guidelines and helps the company during its global expansion.
In global situations, employee benefit rules and taxes can differ and can be mind-boggling. EORs help companies entering new markets, oversee the employee benefits system all the more effectively, and can even support work visas.
How does an employer of record work?
A global employer of record provider has already done the expensive and strenuous work of building an entity around the globe; providing all banking, insurance, taxes, HR, and agreement needs are met and it has the business ready for use and can pay the employees.
Since employer of record services can recruit people in their local countries, they offer this service to companies who want to expand their business into different markets, the possibility to employ overseas without any entity and having the skills needed in the country.
When you hire an EOR it becomes their duty to recruit employees for your company and also to stay compliant with all the different finance and work laws in the country. The employer of record:
On boards people following the complaint agreements
Transmits payroll, taxes and benefits owed
Supports employees' HR needs in-country
While the business of record handles the HR and finance for the foreign employees, you being Customer Company are answerable for dealing with the workers' everyday work. As a result, you get the opportunity to profit by foreign delegates' commitments without taking on peril to your company.
A company using the EOR model keeps up a specific authority over the entirety of their business processes and is also accountable for the overall work environment, compliance, and wellbeing of the company. Be that as it may, the employer of record takes on all the duties and liabilities for issues related to work connections, for example, finances, taxes, employee benefits, employee performance, and record compliance.
The company now has a crowd of experienced people who will manage these intricate issues. The employer of record will take care of the administrative, compliance, and tax issues. This will give more opportunities to think, make, and improve business.
The Benefits of Employer of Record Services
In a condition where you are busy with your company's global expansion planning, you understand how big of a deal it is to consider. When working pace or local availability is one of the major concerns for your company, then the employer of record is the best alternative for your company's worldwide development desire.
Recruiting, or partnering, with an employer of record, has a few pros. Here are some circumstances where the employer of records has helped the companies in their worldwide growth endeavors:
Hiring EOR helps the hiring company to manage their time and energy adequately in more productive areas
The company can note rapid changes in cost, HR tasks, employee benefits, payroll, and remuneration, also compliance issues related to local and global guidelines.
Worldwide Employer of Records, otherwise called Global Employer of Records, can offer similar services in a few countries around the world.
This rebuilding of the company helps cut down many minor costs and provides income and helps save money over a period of time. Thus these reserved funds can help the company grow into other countries or even reach business milestones quickly and efficiently
An employer of record isn't a mere staffing firm but they can provide skilled candidates quickly helping the customer country grow immensely in terms of staff
However, Employer of Records, for the most part, works with staffing firms to find skilled employees, the EORs oversee everything else.
The explanation is that many of these staffing firms can't give training to HR, nor do they have any finance and bookkeeping ability. Likewise, these staffing organizations come up short on the capabilities and information about compliance, risk, insurance, and benefits. Much of the time, they can fulfill the needs of being an employer.
As a medium for growth in new markets: An EOR lets you assess the status of a universal market by recruiting workers for you in your desired country. You can "try things out" in the country by beginning tasks with your new partners, without having to spend the time and cash needed to build up an entity.
To prepare for independent contractor noncompliance: If you plan on hiring a global self-employed entity as a feature of your development plan, it is possible that the work they're performing is similar to what their government endorses for the employees. These contractual workers could be putting you at risk of business and tax infringement. An EOR can recruit your temporary workers for your benefit, fulfilling every single local prerequisite, to prevent any penalties related to non-compliance.
As an entity band-aid: Maybe your company has distinguished another development market and has noted that entity foundation is the best strategy. Be that as it may, you have to start rapidly, and the entity building process is long and complex. With an EOR, you can have employees fully operational in the new country surprisingly fast while your company can craft the entity set up in parallel.
To encourage procurement: If your company has secured a workforce in another country however it doesn't have an approach to pay the new representatives on time because the arrangement did exclude the business law element, an EOR can pay the workers agreeably for your benefit—inconclusively, or until you set up your in-nation entity.
To summarize overall benefits, an Employer of Records has three primary advantages:
Time and circuitous costs investment funds
Expanded regulatory compliance for national and global situations
Decreased risks, as the risk of being anon-complaint employer, falls totally on the employer of record
What to look for in an EOR provider?
When the time comes to assess the employer of record suppliers, there are a few characteristics to remember to help ensure your company.
The most important thing would be the extent of the provider's information in the countries that you're focusing on the extension. One approach to find this out will be by discovering the extent the supplier has been in the country and if the provider has a direct entity and not merely depending on locals businesses. You can ask the supplier:
– Is your in-nation entity lasting?
Just a stable entity, similar to an LLC or local branch, can give local invoicing and other complete HR responsibilities. A changeless entity will similarly be a pointer of the provider's responsibility to offering support in the country- they wouldn't have invested time and energy for the foundation of an entity if that country wasn't a priority to them
– What is your staff's level of local information?
The employer of record must have staff at the local level to deal with customers' HR and finance needs. Top suppliers will have direct work involved with the country, with many customer guides to show their aptitude. In case that an employer of record doesn't have convincing local mastery, it will mostly be unable to deal with your perplexing work circumstances.
An ultimate choice of getting the management of these providers depends only, the fair and square of risk and stress that the customer needs to handle. The multifaceted nature of payment plans, the number of locals, and insurance strategies associated with your present staff will give the appropriate response on which one will suit you better.
Similarly, the entireties which will be put resources into the management arrangement offered by these two kinds of providers must be thought about, with the pressure and finance of doing so without anyone else.
For example, when settling on the choice, remember the costs, both in time and money, of setting up companies abroad. These scheduling of activities will broaden the amount of risk, the purviews where you can be sued, and will, in all likelihood, surpass the difference in the cost for administration understanding between these two.
How to  benefit from Employer of record Global services
Working with an organization that gives employer of record services provide many benefits, including:
Time: Hiring a traditional employer of record is the speediest method to scale your workforce globally. Think about the normal routine to hire an ideal person to fill the basic role in another market, your company would then need to:
Construct/ purchase a branch office in that nation
Register as support of your base site
Contract a local finance manager, local bookkeeper, local legal counselors, and local HR workforce
Document and get a tax ID
Document and get a local financial account
Research work laws and dealing rights
Actualize work laws and bartering rights into your agreement offerings
Obtain an agreement for new workers
Locally recruit new workers
Set up a finance plan, benefits plan, and that's only the tip of the iceberg
This process can take months if you're lucky otherwise much longer than that. In case, you already have people in mind, they might get offers and settle upon them during which the branch will be set up in another country. An employer of records services handles this – and that's just the beginning – in a small amount of the time using pre-built up business entities and an on-call work system of local employees.
Cost: Without the administrative need to set up a local entity, companies give up thousands. However, this singularity starts to expose the cost structure of utilizing a Global PEO's employer of record stage. These providers offer flexibility and cost-viability, especially for SMEs with just a bunch of workers trying out new markets. Also, companies don't have to help HR, finance, or legal inside. This saves time and cash. The employer of the record gives a plan designed to select and inception, decreasing lead times and implementation and maintaining costs across spaces.
Agreement: It's rare for companies to carry out their work expertise by following global work laws and actions. Keeping up with employees abroad requires ability in HR, taxes, data consistency, benefits, and global business guidelines. Bluntly, it's an immense duty – and one with serious problems if blundered. Employer of record service providers exists to give a secure and dependable plan. You no longer need to cope with global work guidelines, which states that you don't bear the duty of fines, penalties, lost licenses, and business sanctions for non-compliance. Worldwide PEOs and their employer of record stages are the response to easing administrative concerns, giving you the experts you need across global work laws and practices.
Risk Mitigation: By far most of the compliance risk falls on your employer of record – not your company. They're the ones with workers' names on the finance, and they're the ones who've drawn, finalized, and regulated everyday finance and employee benefits. Any risks related to these capacities – from misclassified employees and paid bonuses to family leave strategy questions and duty reviews – will be synchronized by Global PEO. Fortunately, these risks are rare with global experts like our own. Our group acclimates themselves with the particularities of global onboarding and employee management, helping us keep away from the hassles. With a trustworthy employer of record like our own, you'll get just socially educated recruiting, contract drafting, recruiting, and maintenance support despite local benefits, incentives, and work law-following practices.
Accommodation: Employer of record services treats companies with true serenity. This is an extreme advantage, helpful to your primary issues related to this rundown. This fully managed joint venture implies companies that utilizing a Global PEO can do what they excel at –focusing on business works and giving business sector-major objects and supervision.
Imagine the growth of the company when a person who is specialized and has gone through the authoritative parts of the global workforce, provides insights into your company. Any company with global workers realizes how sensitive this employ in careful control can be. When the universal extension is the end game, and new markets are in sight, there are barely favored actions over a pre-built up employer of record provider.
What's more, working with an employer of record mostly states that the company has its entities in different countries. This denotes that the company doesn't have to build up its business entity in the country, especially if that company just needs to test a market with a team of workers.
Global employees profit by a company providing these types of services since they have the confirmation that they'll be paid on schedule, that their duties are being retained suitably, and that their employer is working in compliance with every single local law and measures.
How one can achieve the milestone with Infotree Global Employer of record services
The weight for Corporations to go "global" is more convincing than ever in recent times. How does a company enlist a private worker, a bunch of employees, or even several workers in a country that they had no past working experience? Who will be the employer of record? What are the legal and social traps?
A large group of issues can develop around taxes, work law, legal entities, insurance fundamentals, and the money related weights of planning everything. There is an easy way! Infotree's Global Payroll and Employer of Record Solutions make the whole process easy.
Infotree as of now has an existence in 50+countries and can turn into the employer of record for your employees. Our system of workplace provides our customers to speedily and legally have their employees working. We handle all finance issues, business charges, insurance requirements, and the sky is the limit from there. We are a flexible company for global finance and employer of record services.
Before you bring about the cost of planning and global HR, or worse, give-up business since it occurs to be difficult to work universally, call Infotree. We can make it simple.